Roof Repair After a Hail Storm: Top Quality Hail Damage Roofing in Round Rock
Texans are no strangers to some wild weather, and hail is just one of the weapons in Mother Nature's arsenal that can bring all kinds of trouble to properties- more specifically, their roofs.
Wind, rain, and bullets made of ice had dislodged and derailed even the sturdiest roof construction, and the trick to minimizing the damage is handling it quickly. Who better to take the lead on such an important and time-sensitive repair job than the best team in Round Rock, TX – Water Damage and Roofing of Round Rock?
Professional Hail Damage Roofing Company in Round Rock, TX
Water Damage and Roofing of Round Rock is a trusted name in the industry, and a respected contractor amongst professionals. The team has been serving this community for more than 10 years
Hail Damage Roof Repair Services
One of the many professional roofing services we provide is damage inspection, repair and replacement after hail storms in Round Rock, TX, and beyond. Shingles, gutters, tiles, and structures can all come under fire during one of these icy showers, and it is our job to set things right again.
Residential Hail Damage Roof Repair in Round Rock
Keeping your home and the people in it protected from the elements is a must, but a damaged roof can get in the way of things. Our team can have things back in top shape quickly and with minimal disruption to family life.
Commercial Hail Damage Roof Repair in Round Rock
Leaks, breakages, and unsafe roof conditions are not good for businesses, their employees, or their customers. Commercial buildings have codes to uphold, and a professional roofer with special expertise is the person to help them meet them under adverse circumstances.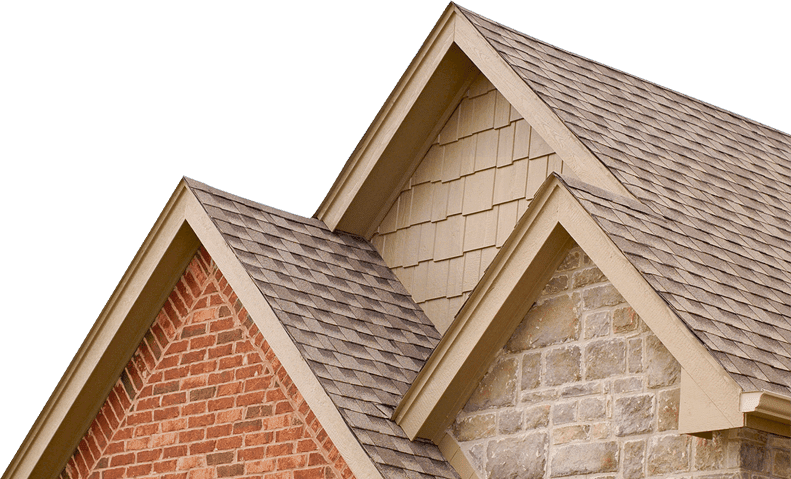 When to Arrange a Roof Inspection: Three Major Signs That You Need Hail Damage Roof Repair
Hail damage can look like a lot of things, with smaller hailstones leaving very different marks to rooks exposed to harsh and heavy downpours. There are, however, three tell-tale signs to keep a look out for to try and catch the damage early and do something about it quickly.
Broken Roof Shingles or Roof Tiles
Although hail is not the only thing that can break shingle and roof tiles, it is frequently one of the first things people overlook. The tops of the roof are exposed to the elements with nothing to protect them, so heavy hail crashing down can wreak havoc if they are old, loose, or already damaged.
Even a sturdy, well-built shingle roof can suffer in a hailstorm, and cracks or breaks should not be left unattended.
Water Stains or Leaks
When roofs get damaged, they can leave the interiors of the house insufficiently protected. Leaks can appear through holes or cracks, leading to stained walls, pooling water, or mold damage.
If you notice water streaks on your walls, it could be a sign of damage caused in a hailstorm.
Missing Granules from Asphalt Shingles
A roof made from asphalt shingles is most prone to granule degradation. Although this happens naturally over time, an abnormally large quantity of asphalt granules appearing in the gutters or on the ground is an indication that it is time to call in a roofer.
Heavy rain, strong wind, and hail stones can all leave these types of shingles needing repaired before their time.
Why Choose Water Damage and Roofing of Round Rock?
There is no team more dedicated to providing exceptional quality storm damage repairs for Round Rock residents and business owners than us. Our clients trust in the work we do and the way we do it, and here are some of the reasons why.
Top-Grade Customer Service
We care about our clients and comprehend the difficulty businesses and homeowners face when dealing with damages on their property- especially something as important as the roof! Because of this, we make sure to be considerate, friendly, and helpful to help smooth the road to repair.
Reputation for Trustworthy, Reliable, and Professional Workers
When you hire us, you hire a crew you can trust. Our reputation in the Round Rock community speaks for itself- as do the many happy client reviews. We take pride in our professionalism and reliability.
Highly Skilled Team
Our people are not only the best to work with for their worksite manner- they also happen to be remarkable at what they do. Our contractors have worked in roofing repair and replacement for years- undergoing regular training and courses to keep on top of the latest and most effective techniques.
Specialists in Hail Storm Damage Repairs
Part of that training is to work specifically with hailstorm damage. We know what we are looking for and how to fix the problem quickly and efficiently. From high winds to severe hail- we have the roofs of Round Rock covered.
We Use Only the Best Materials
Roof repairs done using inferior material are not worth doing in our book. Whatever choice of roof you want, we source the best quality parts and pieces.
Pre-Site Visits and Follow-Up Roof Inspection
Arranging a hail damage inspection after a storm is essential for proper repair planning and accurate quotes from your insurance adjuster. We help with the hail damage roof inspection and provide follow-up reviews to ensure the new roof is holding up exactly as it should.
Get a Free Hail Damage Roof Repair Quote Now!
We offer a free estimate on any repair or replacement jobs in Round Rock, TX, and can provide a detailed quote for all hail damage-related enquiries. Contact our team today by phone or send in a request form to receive a fast, fair, and accurate price estimate completely free of charge.
Frequently Asked Questions
Is hail damage common in Round Rock, TX?
Hail damage is the most common weather-related insurance claim reason in the state of Texas. Furthermore, Texas has more hail storm damage than any other state! Concerning damage to roofing, Cedar Park TX and Round Rock are amongst areas at risk due to the frequency and ferocity of storms when they hit.
What are specific instances of hail damage?
Some types of hail damage roofing may suffer include:
Cracks or splits in shingles

Dents and dings in aluminum gutters

Dislodged tiles

What looks like bullet holes
How can you tell if hail has damaged your shingles?
The most obvious signs of hail damage to shingle roofs are cracks and dents, but every roof is different. Wooden shingles and asphalt shingles are impacted differently when hail hits.
After a storm, check the shingles for any signs of damage, including breakage, displacement, soft dents, and marks. The best way to know the full extent of any damage caused is to arrange a professional inspection.
What can I do about my hail damaged roof?
It is essential to address any type of roof damage as soon as possible. Even a small crack in your shingles after a famous Round Rock storm can lead to much more significant issues further down the line.
High winds and hail impact can open the floodgates with deeper penetrating damage, so you should call an expert roofing repair team straight away. If we get in right away, we can repair structures and replace shingles without too much hassle or disruption.
What kind of roof can withstand hail the best?
A standing seam metal roof is highly durable and hail resistant. Although it can still be damaged in an severe hailstorm, its integrity is likely to stay intact in most stormy conditions.
Other metal roofing materials are also effective and recommended in hail-prone areas such as Round Rock, TX. Rubber roofing can also act as an additional barrier.
Lastly, you can find specially-created hail-resistant shingle roofs. If you are going through a roof replacement, consider asking about there materials for your new roof.
Can't I Just Inspect My Own Roof?
Attempting to inspect your own roof is not only dangerous, but it is also more likely to let subtle but significant problems go unnoticed.
From a personal risk side of things, one wrong move could see you slip or fall. Shingle roofing can come loose during storms, and any breakage could have sharp edges. If there is significant wood rot that you haven't spotted, you could even put a foot through and cause interior damage.
There is also the chance that you can make the damage worse. A qualified roofer and inspection expert knows how to look for issues without disturbing the materials further. They also know exactly what to look for, while someone inspecting their own roof could miss something important.
Your insurance company may insist on a professional hail damage inspection before providing any quote for cover, so it makes sense to arrange one straight away rather than take any financial or physical risks.
How do I select a roofing contractor to fix roof hail damage?
The most important things to consider when choosing what roofing company to contact for assistance with your roof repair are:
How qualified the team is to provide the services you require

What previous customers say about the work quality

Where the contractors are located and how well they understand your area

The time-efficiency and availability of the team
When you first speak with the contractor, ask as many questions as you can about their licenses, experience, procedures, and services. Reliable companies are more than happy to address any queries and concerns before a job, and should offer a free quote with no strings attached.
When It Comes to Hail Damage & Roofing, Round Rock Residents Can Count On Us!
Water Damage and Roofing of Round Rock are the top choice of roof repair and replacement experts in this proud region of Central Texas. We are proud to deliver unrivalled service and the highest quality work to every client, so don't hesitate to get in touch.
Call (512) 566-5511 Today!
Let us manage your hail damage inspection and repairs knowing the best people are on the job.