Asphalt Shingle Roofing Round Rock TX
Whether you are building a new home or simply renovating an existing one, your choice of roofing material is critical to the overall look of your house.
With so many options, such as asphalt shingles and other roofing materials, it is not always easy to know which type of roof you should invest in.
However, at Water Damage and Roofing of Round Rock, we realize that asphalt shingles are very popular among our Texas customers.
That comes as no surprise, considering how highly regarded asphalt roofs are in the roofing industry.
If you are considering asphalt shingles for your roof, you have come to the right place! Call us today and schedule a free appointment with one of our highly-experienced roofers.
What is an Asphalt Shingle Roof?
Asphalt shingle roofs are among the most common types of roofs today! It is a beautiful, timeless roofing system made of mostly asphalt and other materials.
When installed by professionals, asphalt shingles can last many decades and still look modern regardless of the latest roofing trends.
Shingle roofing has been a popular choice of roof style for many years now.
These days, there are many types of shingles that you can find in modern homes, from wood fiber to fiberglass shingles.
However, asphalt is the most common type of shingle material, chosen for its aesthetics and longevity.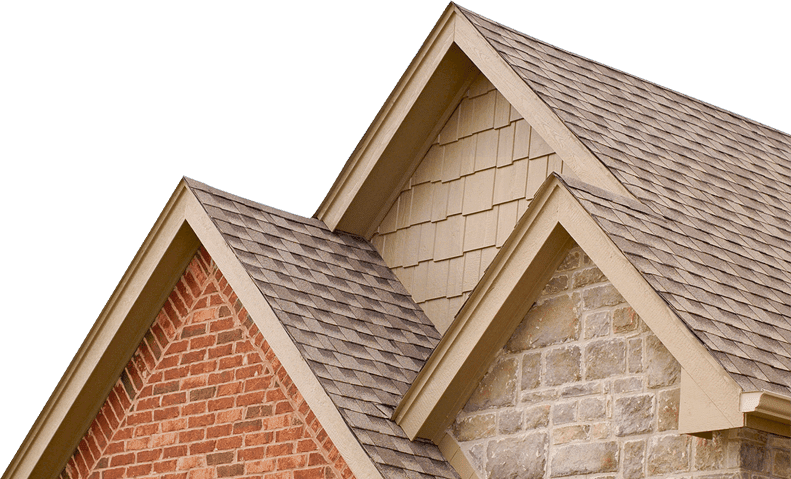 Roof Materials Making up Asphalt Shingle Roofing
While the first thing you usually think of when considering the installation of asphalt shingle roofs is the shingles themselves, there is a lot more to this roof system than that.
Many other roof materials are just as important to the look, strength, safety, and lifespan of an asphalt shingle roof, such as:
Roof decking
Flashing
Roof flashing
Pipe boots
Underlayment
Roof vents
Ceramic granules
Drip edge
Adhesive
Asphalt shingle types
Ridge capping
Ice and water shield
Types of Asphalt Shingles Installed by Water Damage and Roofing of Round Rock
Unfortunately, choosing to install a new asphalt roofing system over other roof options is not the end of the matter.
You still have to consider the different types of asphalt shingle designs.
In most cases, when installing an asphalt roof, your choice is between the three most common types of asphalt shingles, which are:
Three-tab shingles
Architectural shingles
Luxury/Premium asphalt shingles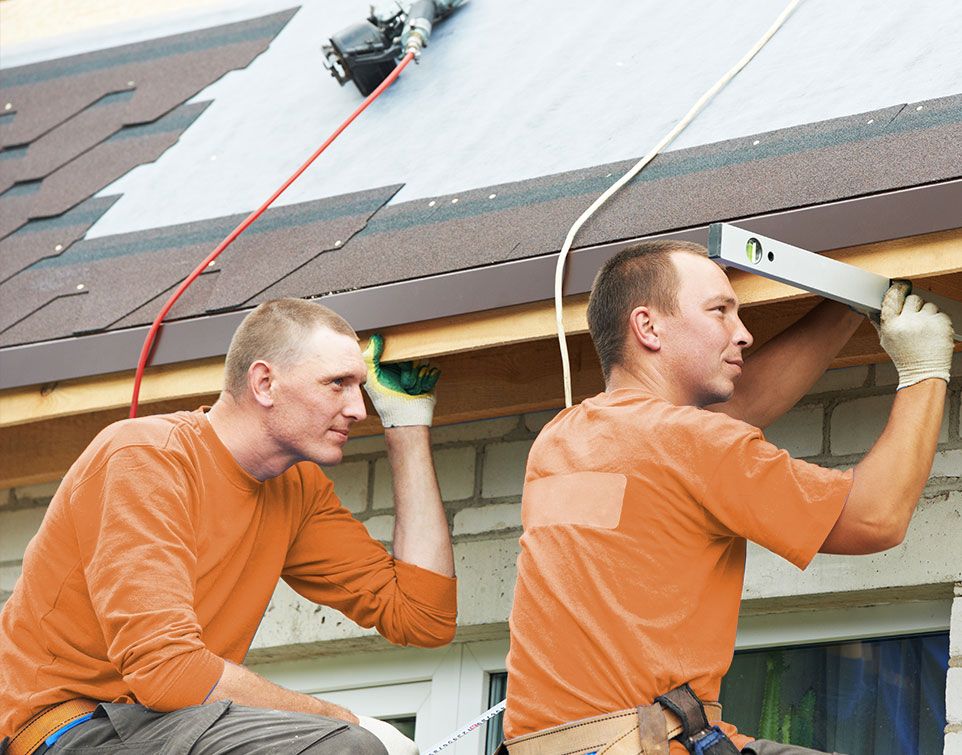 Three-tab Asphalt Shingles
Compared to other asphalt shingles, three-tab asphalt shingles (or simply three-tab shingles) are the most common option for asphalt roofing material.
Three-tab shingles are easily recognizable by the contours that make them look like three different pieces instead of one.
Their popularity is due to their affordability, easy installation and maintenance, lightweight, and energy efficiency.
Architectural Asphalt Shingles (Dimensional Shingles)
Homeowners looking for a more powerful curb appeal usually go for architectural shingles.
They add a lot more color and depth to your new asphalt roof than organic shingles, and when installed by the right contractor, architectural shingles will add a lot of value to your home.
Another great thing about an asphalt roof with dimensional shingles is that they have double the lifespan of three-tab shingles, meaning you save on roof replacement costs in the long run.
Luxury shingles go a step further than architectural shingles in terms of design but are an excellent option for those looking for the beauty of other materials, such as cedar or slate but only have the budget for a new asphalt roof system.
Homeowners can enjoy a beautiful asphalt roof coated or laminated with special paint to make it look like it has been made using other roof options besides asphalt shingles, such as clay, slate, or fiberglass.
Pros and Cons of Asphalt Shingle Roofs
An asphalt roof, like all other roof systems, has its pros and cons that you should consider, such as:
Pros
An asphalt roof is affordable.
There are many styles to choose from, such as three-tab shingles and architectural shingles
Installation of an asphalt roof is straightforward
Cleaning off roof debris and conducting routine roof maintenance is easy
Cons
Compared to other types of roofs, such as metal, an asphalt roof has a shorter lifespan, meaning you will have higher roof replacement costs
Asphalt shingles can be vulnerable to extreme weather, such as high winds, high temperatures, and hail storms
The lifespan of Asphalt Roof Shingles
The lifespan of your asphalt roof depends mainly on the types of asphalt shingles you use and the roof contractors you choose.
Three-tab shingles generally have a lifespan of about 25 years, while both luxury and architectural shingles can go up to 30 years or more.
However, for your roof to last as long as the contractors claim it should, there are a few things you need to do, such as:
Regularly clean up dirt and debris
Conduct proper maintenance of all roof components, such as asphalt shingles, roof frames, and gutters
Paint all exposed roof areas when necessary and replace any damaged components immediately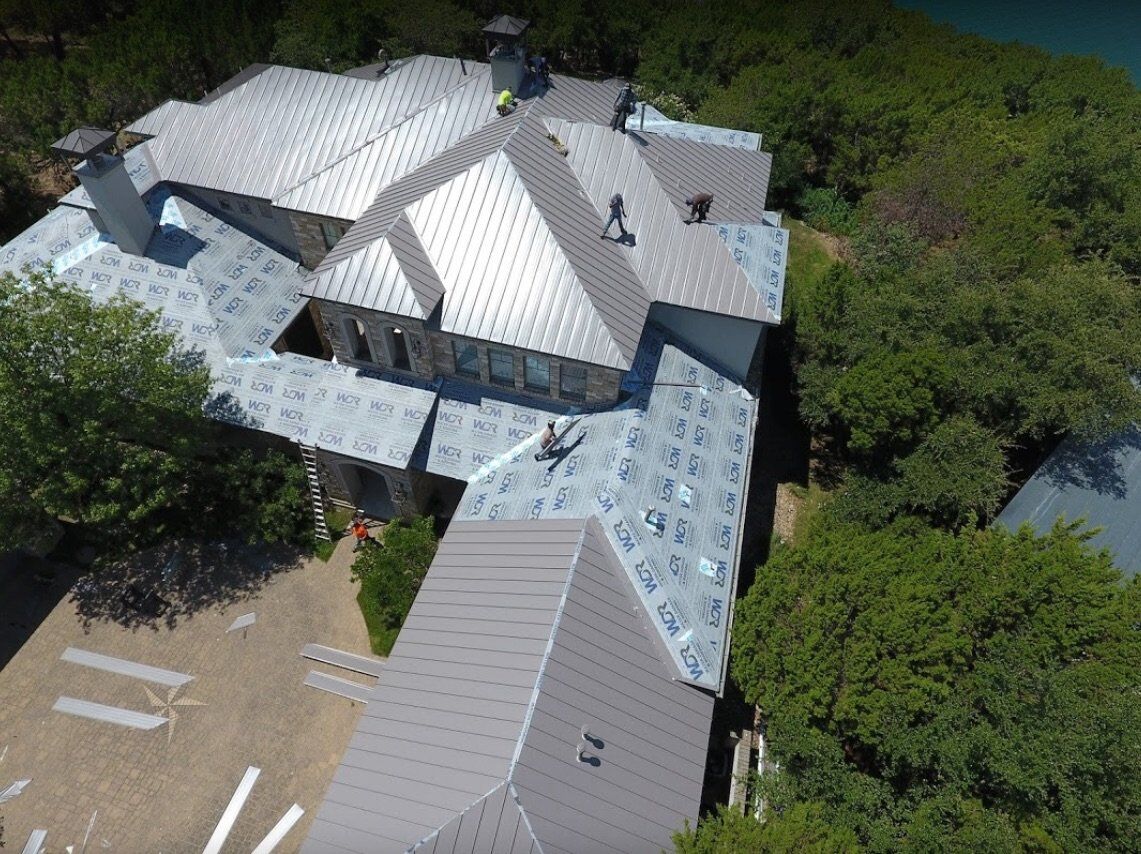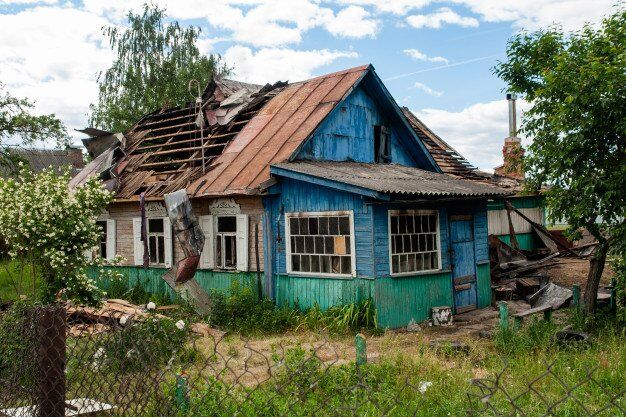 Try Water Damage and Roofing of Round Rock for a Top-tier Asphalt Shingle Roof
Choosing the right roof installation company is the most crucial thing all homeowners must do when installing a new roof system.
The most recommended installation, repair, and maintenance roofer in Texas is Water Damage and Roofing of Round Rock!
Call us today, or leave your contact details on our website, and we will reply!
What Is the Average Cost To Install an Asphalt Shingle Roof?
The cost of installing asphalt shingle roofs depends on many things, such as:
Type of roof (three-tab, dimensional, fiberglass, etc.)
Size of the roof
Roof Contractor
In general, you should expect to pay somewhere between $5,000 and $8,000 for a new asphalt shingle roof, making it one of the cheaper options.
How Much Does a New Roof Cost in Round Rock, TX?
Ideally, you should not budget less than $5,000 for installing a new roof in Round Rock, TX.
If you want the most affordable yet reliable option, call Water Damage and Roofing of Round Rock.
How Much Does It Cost to Shingle a 1000 Square Foot Roof?
Depending on the type of material you choose for your roof, the materials alone should be worth around $900 to $1,100.
However, you must also factor in additional costs, such as labor and transportation.
How Much Is a Shingle Roof for a 2500 Square Foot House?
When installation and transportation costs have been added to the cost of the asphalt shingles, the total cost of your asphalt roof will range from about $9,000 to as high as $20,000 for the high-end luxury roofs.